| Honorees
Niagara Foundation annually awards individuals and organizations who have contributed their time, energy, leadership, and dedication to the cause of dialog, peace, understanding, and community service on a special program called "Niagara Peace & Dialogue Awards".

Date :

Monday, May 21, 2012

Venue :

University Club of Chicago

76 East Monroe Street

Chicago, IL 60603

Time :

6:30 – 9:00 pm

Dinner & Awards Ceremony – Cathedrall Hall – 9th Floor
Anne Pramaggiore
President & CEO, ComEd
Profile
Anne Pramaggiore is president and CEO of ComEd, which has 5,700 employees and revenues of approximately $6.1 billion.
ComEd is a unit of Chicago-based Exelon Corporation. ComEd delivers electricity to approximately 3.8 million residential and business customers across northern Illinois, or 70 percent of the state's population.
Exelon Corporation (NYSE:EXC) is the nation's leading competitive energy provider, with approximately $33 billion in annual revenues. Headquartered in Chicago, Exelon is the largest competitive U.S. power generator, with more than 35,000 megawatts of owned capacity comprising one of the nation's cleanest and lowest-cost power generation fleets. The company's Constellation business unit provides energy products and services to retail and wholesale customers across 45 states, the District of Columbia and Canada. Exelon's utilities deliver electricity and natural gas to approximately 6.6 million customers in central Maryland (BGE), northern Illinois (ComEd) and southeastern Pennsylvania (PECO).
Professional History
Pramaggiore joined ComEd in 1998 to work on the company's transition to an open and competitive energy market under the Illinois Consumer Choice Law of 1997. She began with the ComEd legal team before moving into regulatory affairs and worked on significant components of the Consumer Choice Law, including a 2007 legislative agreement that ultimately placed power purchases in the market.
Prior to her appointment as president and CEO of ComEd, Pramaggiore served as president and chief operating officer (COO) of ComEd, responsible for overseeing the day-to-day operations of the company. Before being named president and COO, she served as executive vice president of Customer Operations, Regulatory, and External Affairs. In that role, Pramaggiore oversaw distribution and transmission rate making, customer operations, and state regulatory affairs and strategy for ComEd. Additional responsibilities included the administration of environmental stewardship activities designed to promote customer satisfaction.
Pramaggiore was promoted to her current position in February 2012. She is the first female to hold the post of president and CEO at the electric utility.
Civic Involvement
Pramaggiore serves as a member of Babcock & Wilcox Company Board of Directors and also the boards of the Art Institute of Chicago, DePaul University, Chicago Botanic Garden, Chicago Urban League, Governors State University Foundation and the Lincoln Park Zoo. She also is a member of The Chicago Network and the Economic Club of Chicago.
Education
She is a 1989 graduate of DePaul University School of Law and served as editor-in-chief of the school's Law Review. She has a bachelor's degree in Communications and Theater from Miami University, Oxford, Ohio.

WTTW, Channel 11
This Award Received By: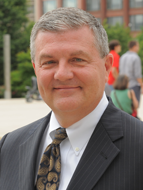 Dan Schmidt
President and CEO
Window to the World Communications, Inc.
WTTW History
WTTW has been providing quality television programming since 1955, when it began as an exhibit at the Museum of Science and Industry. Since then, it has evolved over the past half-century into a distinguished television communications organization. WTTW has grown and changed tremendously over the years, without losing sight of its core mission to provide distinctive local and national programming that informs and inspires, educates and entertains. The station aims to improve understanding of public affairs and current events; increase access to the arts; create awareness of multiple times, places and cultures; encourage exploration of the natural world; excite children about learning; and teach new skills for better living.
WTTW has also become a vibrant center for original program production and a broadcast leader, pioneering such technologies as stereo sound for television. Over the years, WTTW has won seven George Foster Peabody awards, the Columbia-DuPont award, and more than 350 Emmy Awards from the Chicago/Midwest Chapter of the National Academy of Television Arts and Sciences. WTTW's broadcast signal reaches more than sixty-five percent of Illinois' population, as well as portions of Indiana, Wisconsin and Michigan. We broadcast 24/7, producing the most hours of original local programming of any public television station in America. Statistics from Nielsen Media Research indicate that more than four million households tune in to WTTW each month, making it also the most watched public television station in the country.
Throughout the years, WTTW's productions present the best of local arts and culture, and thoughtful analysis of the region's political issues. We produce programming that focuses on Chicago's rich history, which tell the story of our growth as a society, and look to our past as a guide for our community's future. In addition, WTTW strives to reach beyond the television screen and touch the daily lives of our community through special outreach events held throughout the Chicago area.
WTTW is equally committed to the programs and services it provides for children, airing nearly 70 hours of fun and educational programming per week. WTTW has the largest children's audience of any public broadcasting station in the country, reaching more than 600,000 children aged 2-11 each week—almost half of the Chicago area population in that age range. The station also engages thousands of children, parents and caregivers in community outreach programs that promote literacy, school-readiness, physical fitness and proper nutrition.
In the interest of making its diverse programming available and appealing to a broad spectrum of Chicago area viewers, WTTW proudly presents its programming on three additional digital television channels – WTTW Create, the how-to and travel channel; WTTW V-me, our Spanish-language channel; and WTTW Prime, which combines a unique blend of core primetime series from PBS and WTTW's award-winning locally produced programs. Many of WTTW's local and national programs are available through Comcast On-Demand, which is accessed by thousands of viewers each month. In addition, appropriate content from WTTW programs extends to our sister radio station, 98.7 WFMT, and the WFMT Radio Network, both national leaders in classical music and fine arts broadcasting. Our website at wttw.com allows viewers to watch many of our programs online and provides expanded content for many of our original programs, further increasing the accessibility of our programming.
Biography of Dan Schmidt
Dan Schmidt is President and CEO of Window to the World Communications, Inc., a $48 million non-profit public media institution comprised of WTTW11, 98.7WFMT, wttw.com, wfmt.com, as well as WTTWN, WTTW's National Production arm, and the WFMT Radio Networks.
Schmidt began his career in the broadcasting industry at WHA Television and Radio in Madison, Wisconsin in 1977. He holds a M.A. in Arts Administration from the University of Wisconsin at Madison and studied at Boston University Tanglewood Institute. From 1979-1991, Schmidt held a variety of management positions with Minnesota Public Radio, including General Manager of a five-station group. He has served on the Board of Directors of the U.S. Committee for UNICEF; as a consultant for Chamber Music America and as a member of Radio Broadcasters of Chicagoland, served on the board of American Pubic Television (APT) and the Chicago Council on Global Affairs, and is co-author of the book, Administration in the Arts: An Annotated Bibliography.
Schmidt is past Chairman of the Public Television Major Market Group LLC, served for the two years on the Public Television Affinity Group Coalition (AGC), and is a past Chairman of the Illinois Arts Alliance. He is also an active member of the Commercial Club of Chicago and the Chicago Economic Club. Prior to being named President & CEO, he served as Senior Vice President of WFMT & The Radio Networks since 1991, and is recognized for developing 98.7WFMT's non-profit/commercial hybrid business model, resulting in substantial revenue growth. Schmidt also launched a national mainstream jazz radio format service and expanded the WFMT Radio Network's program distribution to international venues.
Since assuming his role as President and CEO of WTTW in July of 1998, the station increased local and national production substantially. Moreover, Schmidt spearheaded a successful $50 million capital campaign, and secured $47.5 million from the U.S. Department of Education to launch WTTW's entry as a major player in PBS's "Ready to Learn" line-up. WTTW11 reaches two million weekly viewers over a four-state area. 98.7WFMT also reaches a wide audience across four states, and is also available worldwide through an internet streaming service.
In his spare time, Schmidt is a boating enthusiast and is an active Scuba Diving Instructor. A resident of the Chicago area, he is married and has three children.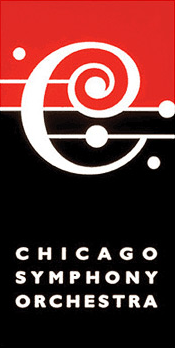 Chicago Symphony Orchestra
This Award Received by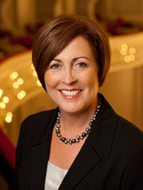 Deborah F. Rutter,
President
Chicago Symphony Orchestra
Chicago Symphony Orchestra History
The Chicago Symphony Orchestra (CSO) is consistently hailed as one of today's leading orchestras. In the 2010/11 season — the Orchestra's 120th — Riccardo Muti began his tenure as the CSO's 10th music director.
Throughout its history, the Chicago Symphony Orchestra has enjoyed leadership from an illustrious list of music directors, beginning with Theodore Thomas, who founded the Orchestra in 1891, followed by Frederick Stock, Désiré Defauw, Artur Rodzinski, Rafael Kubelík, Fritz Reiner, Jean Martinon, Sir George Solti and Daniel Barenboim. From 2006 to 2010, Bernard Haitink led the Orchestra as principal conductor, the first in CSO history. Pierre Boulez, who was appointed principal guest conductor in 1995, has served as Helen Regenstein Conductor Emeritus since 2006.
The CSO performs well over 150 concerts each year at Symphony Center and at the Ravinia Festival, where it is in residence each summer. The ensemble has embarked on 38 overseas tours since Sir Georg Solti led the first European tour in 1971, most recently visiting Italy and Russia in Spring 2012, making that trip the 29th tour to Europe and second to Russia. The CSO has traveled to the Far East six times as well as once each to Australia and South America.
Recording has been a significant part of the CSO's history since 1916, and in 2007 the Orchestra launched its own record label, CSO Resound. CSO recordings have earned 62 Grammy awards from t he National Academy
of Recording Arts and Sciences, most recently in 2011 for Best Classical Album and Best Choral Performance for Verdi's Requiem conducted by Riccardo Muti.
In 2007, the CSO returned to the national airwaves with its self-produced weekly broadcast series, which is syndicated to more than 30 markets nationwide on the WFMT Radio Network as well as on cso.org. Also that year, the CSO expanded its online presence with free video downloads of its inno ative Beyond the Score presentations.
The Chicago Symphony Orchestra Association also is the parent organization for the Chicago Symphony Chorus; Civic Orchestra of Chicago; the Symphony Center Presents concert series; The Institute for Learning, Access and Training; and the Symphony Center facility. Symphony Center Presents, the organization's presentation arm, offers more than 50 diverse performances each year, including piano and chamber recitals, visiting orchestras, jazz, world music and the MusicNOW contemporary series.
Mason Bates and Anna Clyne are the CSO's Mead Composers-in-Residence, having taken up their posts in with the 2010/11 season. They curate the MusicNOW series along with principal conductor Cliff Colnot and work with Maestro Muti to reach across traditional barriers and into the Chicago community.
The Institute for Learning, Access and Training at the CSO, launched in October 2008, engages more than 200,000 Chicago-area residents annually. Under the auspices of the Institute, Yo-Yo Ma, who became the first Judson and Joyce Green Creative Consultant in January 2010, serves as an invaluable partner to Maestro Muti, CSO staff, and musicians by participating in the development of new initiatives and music series.
Biography of Deborah F. Rutter
Deborah F. Rutter joined the Chicago Symphony Orchestra Association as president in August 2003. In this role, she oversees the operations of the Chicago Symphony Orchestra, Symphony Center Presents, The Institute for Learning, Access and Training, including the Civic Orchestra of Chicago, and the Chicago Symphony Chorus, as well as the Symphony Center facility.
Prior to joining the Chicago Symphony Orchestra, Rutter was executive director of the Seattle Symphony, a position she held since November 1992. From 1986 to 1992, she served as executive director of the Los Angeles Chamber Orchestra, and prior to that she was orchestra manager for the Los Angeles Philharmonic.
Rutter is involved in a number of national and local cultural organizations and currently is a member of the board of the Illinois Arts Alliance, the League of American Orchestras, the Grant Park Conservancy, the Solti Foundation and the Cultural Advisory Council for the City of Chicago. She is a member of the Commercial Club of Chicago, the Chicago Network and the Economic Club of Chicago; she also is a visiting committee member for the University of Chicago Department of Music. Rutter has previously served as board member and president of the Washington State Arts Alliance Board of Directors, the Association of California Symphony Orchestras, the prestigious Curtis Institute Board of Overseers and currently chairs the Policy Committee for the League of American Orchestras. In Seattle, she served on the board of the Downtown Seattle Association and NPower, a nonprofit organization dedicated to helping other nonprofits use technology to better serve their communities. Rutter was active in the Los Angeles community, serving on the board of governors of AIDS Project LA and of Chamber Music/LA.
Deborah Rutter is a graduate of Stanford University and holds an MBA from the University of Southern California. She was born in Pennsylvania and grew up in the Los Angeles area. She studied piano and violin from an early age, and she played violin with orchestras throughout her education.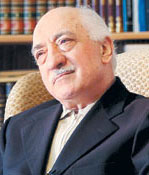 Honorary President
Niagara Foundation
M. Fethullah Gulen was born in the small village of Korucuk, in Erzurum Province, Eastern Turkey, in November 1938. Known by his simple and austere life style, Mr. Gulen has been from his earliest years a gifted Islamic scholar and thinker, and a creative writer and poet. His father taught him Arabic, and initiated in him his profound love of Prophet Mohammad (PBUH) and his Companions. Later he continued his studies under the guidance of some of the most prominent Islamic scholars in Eastern Turkey. He received further training in the religious sciences.
Mr. Gulen, so distinguished himself that he was asked to begin teaching when he was only fifteen. He did so while continuing his studies in the religious sciences. Blessed with extraordinary oratory skills, even at young age, Gulen was recognized as one of the more accomplished Islamic preachers in the early 1950s, mentioned in the same breath with some of the more learned scholars, many years his senior, in Eastern Anatolia.
Gulen devoted his life trying to solve society's ills and spiritual sufferings, and inspired the establishment of many charitable organizations to serve the welfare of the underprivileged. He published a number of well-known books, most of which remain on the best seller list in Turkey, and have also been translated into English. These include The Infinite Light, Questions, Towards the Lost Paradise, and Truth through Colors.
At a time when humanity is in a desperate need of leaders and role models, we find a true innovator and an inspirational leader as well as a deeply good man in M. Fethullah Gulen.
When he retired from formal teaching studies in 1980 he had inspired a whole generation of young students, many of whom are leaders in their communities today and of course, Niagara Foundation itself, especially they are the purpose of this evening, all based upon the work of this man.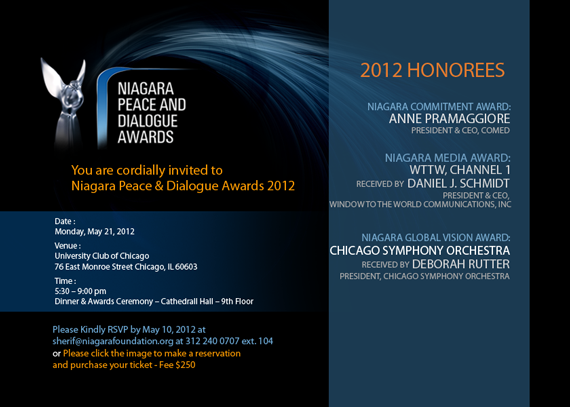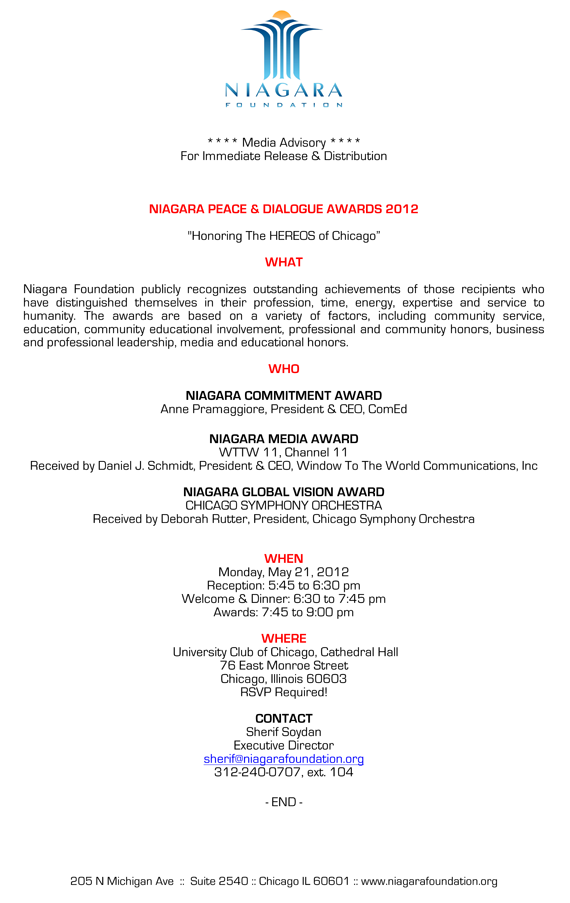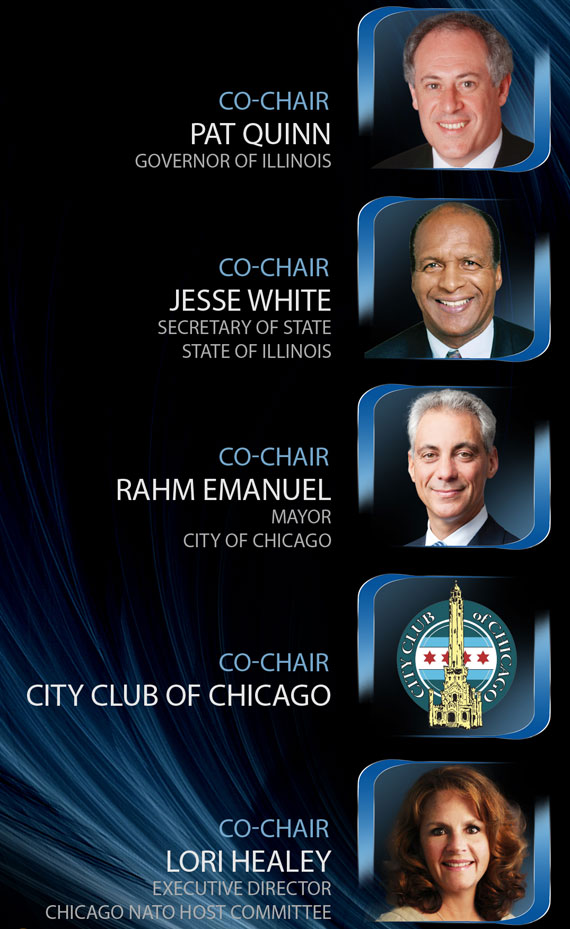 NIAGARA PEACE & DIALOGUE AWARDS 2012 from Niagara Foundation on Vimeo.
Patt Quin, Governor, State of Illinios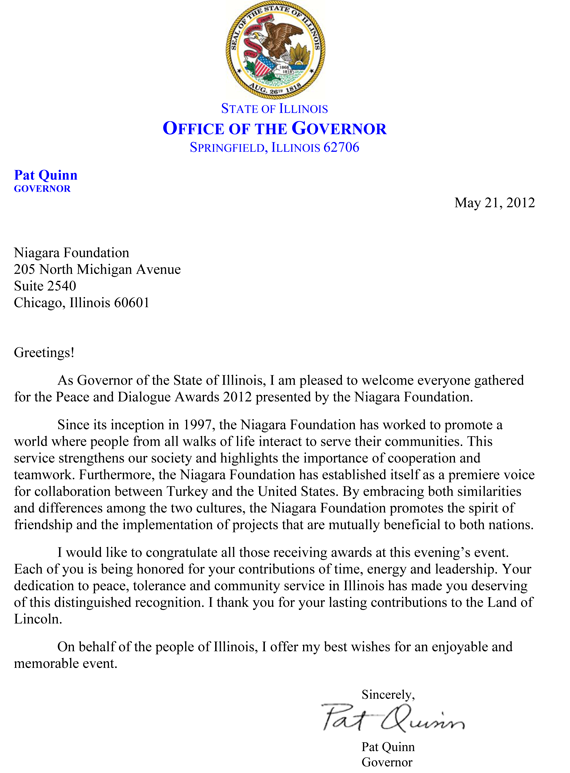 _________________________________________________________________________________
Richard J. Durbin, US Senator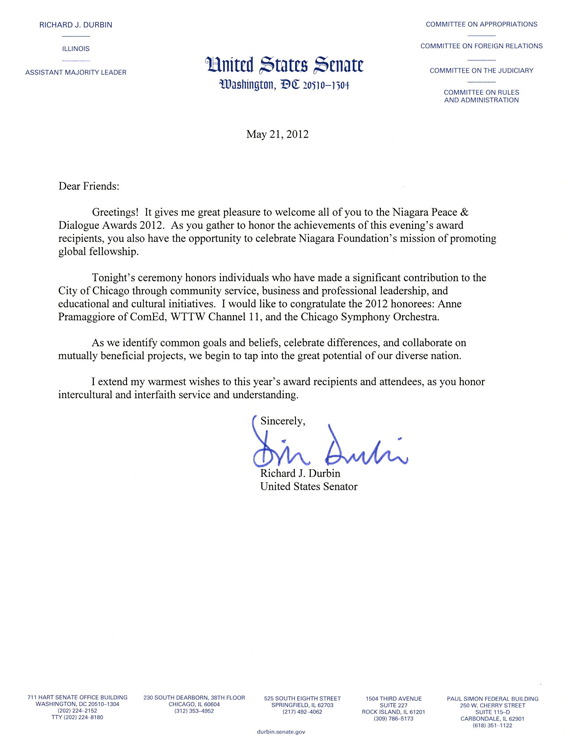 _________________________________________________________________________________
Jesse White, Secretary of State
_________________________________________________________________________________
Aaron Schock, Member of Congress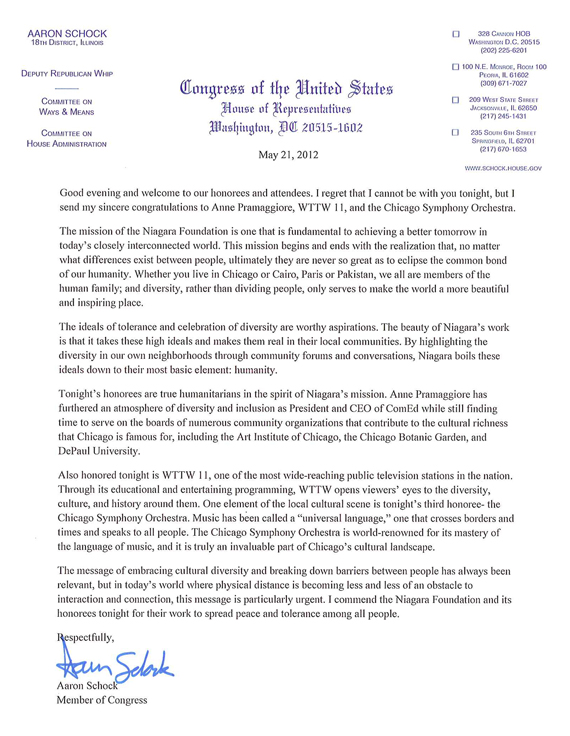 _________________________________________________________________________________
Michael J. Madigan, Speaker House of Representatives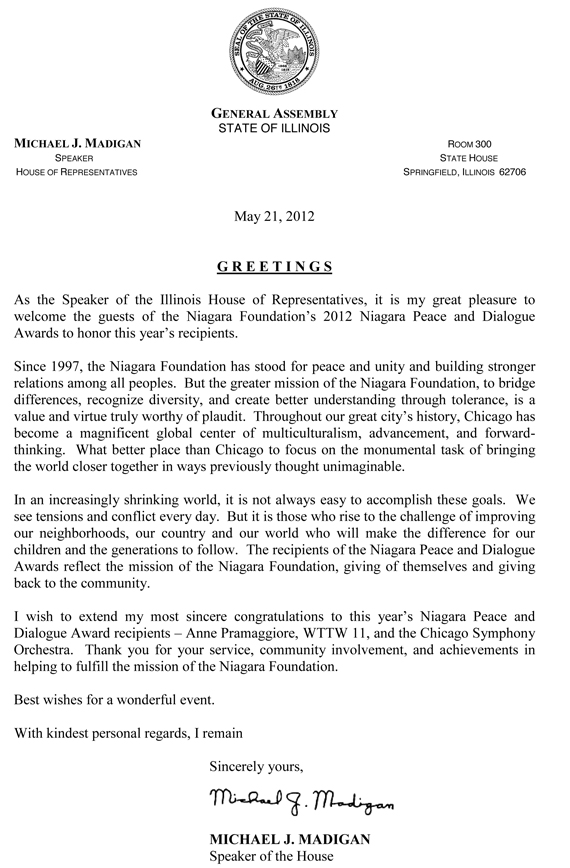 _________________________________________________________________________________
Jan Sckakowsky, Member of Congress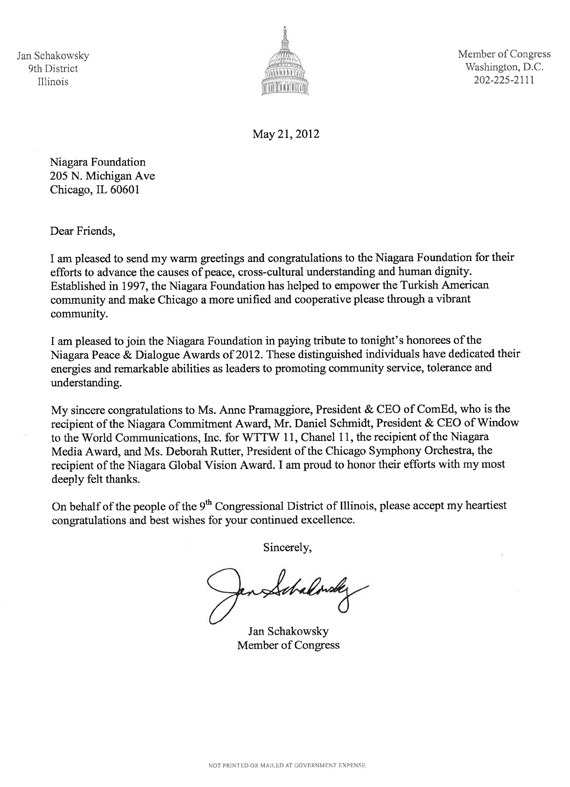 _________________________________________________________________________________
Luis V. Gutierrez, Member of Congress